Local Exhibitions and Meetings
1998-2002

NY Chapter's 8th Space Stamp & Autograph Show
The NY Chapter of the Space Unit will have it's 8th
Space Stamp & Autograph Show on April 13 at the First German Sports Club,
60-60 Metropolitan Ave, Ridgewood NY. It is easy to get to, there will be
plenty to see and buy, plus a space Cancel. If you need more directions or a
table contact Carmine Torrisi at ctorrisi1@juno.com



BELGICA 2001 World Stamp Exhibition Space Unit Member wins Large Gold
.....Report by Jürgen P. Esders (International Director)

Astrophilately now counts a 2nd Large Gold exhibit in its ranks. For the
2nd time since the Astrophilately class was introduced, Space Unit's
International Director for the Asia/Pacific Region, Charles Bromser
harvested this rarely attributed highest award available for his "Pioneer
Rocket Mail" collection.

Space Unit's President Emeritus, Ben Ramkissoon, achieved his first Gold
Medal for "Development of the US Lunar Exploration". Two other Space Unit
Members, Stefan Bruylants and Walter Hopferwieser, were awarded large
Silver and Large Vermeil medals, respectively.

Lifetime Space Unit member Béatrice Bachmann had been the first person to
win a Large Gold Medal in Astro, back in 1994 on PHILAKOREA 94. Her
fabulous collection "From the beginning of space exploration up to space
mail" could be admired at Brussels as well - the first time ever an Astro
collection was exhibited in the FIP Championship Class. In this class,
exhibits that have been awarded three previous Large Gold Medals on
international level can be shown and automatically receive another Gold
medal.

The high level of awards achieved confirms the increased recognition of
Astrophilately by traditional philately.

The Space Unit successes are listed in detail:

| | | | |
| --- | --- | --- | --- |
| Name | Country | Exhibit title | Medal won |
| BRUYLANTS, Stefan | Belgium | European space activities | Large Silver |
| BROMSER, Charles | Australia | Pioneer Rocket Mail | Large Gold |
| HOPFERWIESER, Walter M. | Austria | From rocket mail to space mail | Large Vermeil |
| RAMKISSOON, Reuben A. | USA | The development of the US lunar exploration | Gold |

3rd SU Overseas' Members Meeting becomes Astro-summit
.....Report by Jürgen P. Esders (International Director)
It was almost an astro-summit, the 3rd Meeting of Space Unit's Overseas
Members in Brussels. Chairpersons of no less than four European
astrophilatelic associations attended the gathering during the World Stamp
Exhibition "Belgica 2001" on June 10th in the Belgian capital, Brussels.
Co-hosted by the Belgian BFV Cosmos with its newly elected Stefan
Bruylants, Peter Wilhelm from Germany's Weltraum Philatelie, Arie Olckers
from the Dutch RFC Nederland and Jean-Louis Lafon from the newly found AAAF
in France listened to presentations and exchanged experiences and covers.
Austria, Switzerland und Spain were prominently represented as well, with
José Grandela from Madrid, Secretary General of the FIP Commission on
Astrophilately, Béatrice Bachmann, his precedessor, and FIP Astro
Commission member Miri Matejka from Vienna representing this country's
Gmünder Weltraumfreunde. Jacqueline Lauwers Bekaert, Secretary General of
FISA and widow of the late Les-Winick-Award winner Georges Lauwers,
contributed actively to the success of the meeting.

Considering the location and with 13 visitors, Belgian collectors were
obviously best represented. Four collectors came from the Netherlands, two
from Germany, and the prize for the farthest travelled SU member goes to
Alexandru Bartoc from Romania. Space Unit members mingled with BFV Cosmos
members, for mutual benefit.

During the three hour meeting, Space Unit's International Director Jürgen
P. Esders presented a slide show from his recent visit to Peenemünde, the
place where Wernher von Braun's engineers developped the A4 rocket, a
pre-cursor to all rocketry, whether East or West. Transformed into an
airfield and navy basis of the former East German armed forces after the
war, the site of the Nazi's former Army Test Center on the shores of the
Baltic Sea became accessible to the public since the fall of the Wall.
Today a major tourist attraction on the remote island of Usedom, the first
makeshift exhibition there attracted criticism for its naive approach to
what was a major armament project of Hitler's criminal war efforts. Since
December, a revised concept of the exhibition has been opened. Assisted by
Michael Neufeld, the Smithsonian's institution's curator and a leading
historian expert on Peenemünde, the exhibition presents the ambiguity of
Peenemünde, being the birthplace of a revolutionary new technology on the
one hand and a terroristic weapon on the other. Visitors are presented with
the integration of the A4 concept into Hitler's war efforts, are given an
overview on the early rocket pioneers' dreams and concepts, can sit down in
a mockup engineer's office to study drawings and calculations, and watch an
aerial view of Peenemünde from the standpoint of a British bomber pilot who
flew the largest bomb raid the British staged during World War II when
Peenemünde was bombed to pieces in August 1943.

Still off limits for the general public, Esders was admitted to the very
location of von Braun's labs and test stands. Photographs presented to
Space Unit members showed that little is left. Following an order of the
Allied Commanders after the war, the remaining buildings were destroyed by
the Soviet Army. Nothing but mounds of rubble, a few concrete structures
and an isolated railway track here and there remain of most of the
buildings. Still, the likely launch site of the mobile truck unit that
launched the very first A4 to space on October 3rd, 1942, is marked with a
small memorial. For 2002, the museum intends to organize guided bicycle
tours throughout the compound. A complete report of the visit will be
published in Astrofile soon.

During the second part of the meeting. BFV Cosmos' Chairman Stefan
Bruylants introduced members to the astrophilatelic heritage of a new
emerging space power, China. With transparencies, Bruylants showed the
location of China's current three launch sites. The postmarkers used on or
near these places, several tracking and control stations and tracking ships
were introduced to the impressed visitors. The physician, who is equally
FISA's vice-president for Astrophilately, revealed the identity of the
Chinese characters on those postmarkers, providing a useful guide for the
identification of covers which look otherwise rather cryptical for the
Western eye. The presence of a Chinese collector from Shanghai, who is not
a space collector himself, but a cherished trading partner of two of the
collectors present, was a more than welcome guest and helped to clarify a
few open questions concerning names and Chinese signs.

In the 2nd part of the presentation on Chinese space covers, Jackie Lauwers
showed a panorama of covers commemorating the first two unmanned launches
of the spacecraft of China's manned program, code-named "Project 921" and
baptised "Shenzhou" - Messenger of the Gods - after the launch. Covers
flown on the first flight were shown, but flown covers of the 2nd flight in
January of this year might never reach a larger public, whether in China or
in the West. Encountering "unforeseen conditions" during landing, rumours
speak of only slightly over 100 covers surviving this test flight designed
to identify technical shortcomings that might endanger the safety of a
future crew.

Photographs taken during the 3rd Space Unit Overseas Members Meeting:
If you wish to receive prints (or medium/high resolution files) of these photos, please contact Jürgen P Esders

| | |
| --- | --- |
| | |
| | |
| | |

40th FISA CONGRESS
.....Report by Jürgen P. Esders
Following a mandate by the President, I attended the 40th FISA Congress at
Wuppertal this Saturday as a delegate for the Space Unit.

The meeting was attended by some 30+ delegates of aerophilatelic and
astrophilatelic associations from countries as varied as Germany, Austria,
Switzerland, Romania, Poland, USA, Canada, UK, Belgium, Italy and the
Netherlands. The meeting was held in German, as all of the foreigners
present seemed to master this language.

From the astrophilatelic side, the following associations had sent delegates:
Space Unit: myself, as International Director
Gmünder Weltraumfreunde (Austria): Miri Matejka
Gesellschaft der Weltall-Philatelisten (Switzerland): Peter Beer
BFV Cosmos (Belgium): Dr. Stefan Bruylants (who equally serves as
Vice-President, Astrophilately) and Jackie Lauwers Bekaert (who equally
serves as Secretary General).
Matejka, Bruylants and Lauwers Bekaert are equally members of the Space
Unit.

The meeting, that took about two hours, was mostly dealing with
formalities, and I'm therefore just reporting about the most important ones:
1) The Board was reelected in the same composition as present:
President Kuno Sollors Germany
Vice-President Nelson Eustis Australia
Vice-President Aerophilately & Hon. Treasurer Tony Roth Switzerland
Vice-President Astrophilately Dr. Stefan Bruylants Belgium
Hon. Editor of the Bulletin Alexander S. Newall Great Britain
Secretary General Jacqueline Bekaert Belgium
Board Members
Gérard Collot France
Dr. Bedrich Helm Czech Republic
John Johnson Jr. United States
Hans Mierl Austria
Dr. Romano Savini Italy

2) For her longstanding service to FISA, Jackie Lauwers Bekaert was awarded
this years' FISA Gold Medal. Peter Muggler from Switzerland, a former Space
Unit member now concentrating on other fields, was awarded the Literature
Award for his book on Swiss Balloon post.

3) Following a motion from the Board and by a large majority, FISA
introduced the possibility to nominate a Council of Elders, with the
purpose to maintain knowledge and experience of senior members who no
longer assume official functions in the Board. The Board was charged to
make proposals for the next meeting, to take place in 2003.

4) Patronage was awarded to Australia for an exhibition to take place in
2003.

5) The next FISA Congress will be held in two years time, at Tucson,
Arizona (this would then be a good occasion for Space Unit to be
represented with a high ranking delegation).

6) The presentation of the Les Winick Award of the Space Unit to the late
Georges Lauwers, posthumously for his merits as one of the "fathers" of the
exhibition regulations on Astrophilately, was communicated, the award
letter by Ray Cartier read out to delegates by the President, and the medal
shown.

In a private conversation after the meeting, Jackie Lauwers told me how
much she enjoyed the recognition shown to her late husband by this Award.
She was visibly touched and shared stories about how Georges began to work
and lobby for the recognition of Astrophilately in the 60s. She asked me to
transmit her sincere and deep thanks for the Award to the Board.




REGIONAL MEETING AT COMPEX 2001
.....Report by Dr. Ben Ramkissoon
Members of the Space Unit took advantage of a gathering in Chicago
for the first of three occasions in 2001 at COMPEX, Arlington Heights,
IL on May 27, 2001. While 10 members attended the meeting, a
number of additional members came to the exhibition and bourse.

Ben Ramkissoon, President-Emeritus of the SU presided at the
meeting. He gave an overview of the SU and invited comments and
feedback that he will forward to Ray Cartier, the newly elected
president.

Two of the ideas included;
(1)Collation of interesting space-related web sites which should be
reported to Dr. Ross Smith, our SU Computer Coordinator, for linkage
to our home page;
(2)Listing of a calendar of SU regional and annual meetings, as
well as shows or bourses specially devoted to astrophilately;

Other officers in attendance included Tom Steiner, vice-president and
auction chair; and Dr. Dave Chudwin, a former ASTROPHILE editor.
Members present were introduced with their collecting interests, and
questions or comments fielded.

Following the formal part of the meeting, the remaining time was
devoted to astrophilatelic camaraderie, trading and selling of space
covers.

Members are invited to take advantage of the Calendar for Future SU
scheduled CHICAGO 2001 meetings, which will be held at the
Donald E. Stephens (Rosemont)Convention Center:

APS STAMPSHOW
Aug. 25 4:00 PM Space Unit meeting
Aug, 26 11:00 AM Talk: How to Exhibit and
Judge Astrophilately
by Dr. Ben Ramkissoon

CHICAGOPEX 2001
Nov. 18 11:00 AM SU Regional Meeting





SpaceFest 2001
This year SpaceFest will be held in Miracle City Mall rather than an outside
event. The dates are Sept 28, 29, and 30.

More information can be found at their website:
http://www.spacefest.com/



SU Group Meetings in Chicago during 2001
April 25-27 COMPEX SU Meeting 04-27-01, at 12 to 1 PM
Forest View Educational Center
2121 South Goebbert Road
Arlington Heghts, IL

Aug. 23-26 APS STAMPSHOW SU meeting, 08-25, at 3 PM
Seminar on astrophilately, 08-26, at 1 PM conducted by
Dr. Reuben A. Ramkissoon
Donald E. Stevens Convention Center
Rosemont, IL
Further details at APS Web site


Nov. 16-18 CHHICAGOPEX SU meeting, 11-18-01, at 11-1pm
Donald E. Stevens Convention Center
Rosemont, IL
Further details at CPS Web site



NAPEX 2001 Space Unit National Meeting in Washington, DC
The first Space Unit National Meeting of the millennium will be held in the Washington, DC area in conjunction with NAPEX on 2001, June 1-3.



Belgica 2001 Meeting of Foreign Members
The Next Space Unit Foreign Members Meeting will occur during Belgica 2001 at Brusselson on the Sunday June 10th, Palace 3, Salle Edmond Struyf , 14-17 h.



Espana 2000 Meeting of Overseas' Members
From 6 to 14 October 2000, the Spanish capital Madrid will host yet another World Philatelic Exhibition, España 2000. The venue of España 2000 is the Palacio de Cristal at the Casa de Campo Fairground in Madrid, easily accessible with the excellent subway network. This is an opportunity to see a first class international stamp exhibition, to shop for stamps and postage and to meet fellow astrophilatelists. On October 13, the FIP Bureau on Astrophilately will meet, and many prominent astrophilatelists will be in town.
With the assistance of local collectors, the President of the Space Unit, Dr. Reuben Ramkissoon and myself are pleased to invite you for the 2nd Overseas Members Space Unit Meeting during España 2000. The meeting takes place on Saturday, October 14, 2000, from noon to 1 pm at

Salon de Actos
Pabellón de Cristal
Casa de Campo Fairground
Madrid, Spain

Ben will be present during the entire 2nd week of the exhibition. Jürgen will be present from Friday, 13 October, to Sunday 15 October. José M. Grandela, Secretary General of the FESOFI (The Spanish Philatelist Federation) was very helpful in setting up the event.

Jürgen P Esders
International Director, Space Unit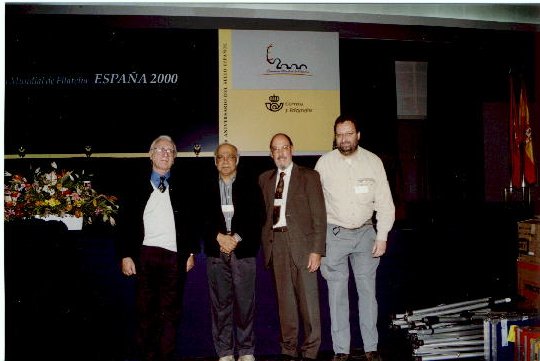 Space Unit Meeting in October 2000 at Madrid

SpaceFest 2000
SpaceFest 2000 will be held September 8, 9 & 10th in Titusville, Florida - located 5 miles north of The Kennedy Space Center and home of Space View Park, a premier launch viewing area. A Space Collectors Market will be open for buying, selling and trading all
three days of the event. In support of SpaceFest 2000, NASA/KSC has scheduled a launch the morning of September 8th to kick off the festivities (the schedule can be seen at
http://science.ksc.nasa.gov/shuttle/countdown/).

We would love to see you there!!!
Patricia Barber
US Space Walk of Fame Foundation
(321) 269-7717



6th Annual NY ATA Space Unit Chapter Postcard, Autographs & Stamp Show
April 15th 2000. It will be held again at the Elk's Lodge 82-10 Queens Blvd. , Elmhurst NY. The Post Office will be there and a Space Cancel honoring the 30th anniversary of the 1st Flight of the X 24 B. If you need dircetions or other information, please contact Carmine Torrisi at ctorrisi@aol.com or call 718 386 7882 after 6 pm.




Annual General Meeting of the Space Unit at AMERICAS 99
The prestigious LESTER E. WINICK award for excellence in the promotion of astrophilately was awarded to long-time Space Unit auction coordinator and Vice-President, Tom Steiner, as was announced at the annual general meeting of the Space Unit convened at the AMERICAS 99 exhibition at Orlando, Florida, February 26, 1999.

Tom Steiner became the second winner of the award which was created to honor the large contribution to astrophilately made by Les Winick, President-Emeritus of the organization. Last year's awardee was Ray E. Cartier, who served as Vice-President of the Unit, and currently serves as Chapter and Awards Chairman, as well as the driving force behind the
Mars Study Unit.

President Ramkissoon also announced the first winner of the BERNICE SCHOLL AWARD--newly elected International Director, Jürgen Peter Esders, who contributed the outstanding feature article in the ASTROPHILE for January, 1998, "La Coupole History Centre", an article devoted to the history of the V-2 rocket and its influence in this area of France during World War II.

The Bernice Scholl Award was created to honor the memory of long time treasurer and associate editor, who served untiringly and faithfully for the Space Unit over two decades.

While a larger number of members came to the exhibition, twenty members and guests were present for the Annual General Meeting. President Ben Ramkissoon introduced two of the Space Unit Officers in attendance, Steve Durst, Treasurer; and Bob Glass, Director. Members were also given an opportunity to introduce themselves and state their collecting interests before the assembled group.

Figure 1 illustrates a cover created for the meeting, and shows the signatures of those attending the meeting.

Ben gave an overview of the work of the unit, including reports from the secretary, treasurer, computer coordinator, chapter chair, and auction coordinator.

Ample time was given for informal meeting among members and guests. A special time was set up on Saturday for a member trading session, as well as an opportunity to visit dealer booths and to look at the interesting and informative array of exhibits. At the show, members found some early and exciting space covers, including: a flown Nike R-18 rocket cover cancelled July 16, 1948, from Las Cruces, New Mexico; a cover for the first day of postal service at Patrick Air Force Base dated March 1, 1952; and a Goldey redstone rocket launch cover, cancelled July 21, 1959, at Port Canaveral, Florida.

There were ten exhibits in the Aerophilately and Astrophilately section, but only one was related to astrophilately.

Ben's exhibit on DEVELOPMENT OF THE UNITED STATES LUNAR EXPLORATION was awarded a Large Vermeil medal and continues to set the standard for excellence for space cover exhibits. Members may be interested in knowing that the exhibits at AMERICAS 99 were evaluated according to the international (FIP) standards.

A number of gift items were made available to members and guests attending the meeting. These consisted of covers donated by Stamp Collector (Krause Publications), another member who preferred to remain anonymous (ASTP anniversary covers), and Ken Havekotte (Friendship 7/STS-95 decals), as well as the special awards previously noted.

Because of a change in the planned schedule of the meeting proceedings, upon adjournment a group of six members journeyed to the Kennedy Space Center, where a special tour was arranged by member Ken Havakotte.

The tour began at the Center of Space Education, and included visits to the Orbiter Processing Facility (OPF), the Vehicle Assembly Building (VAB), and the impressive transfer isle (low and high bays), the Mobile Launcher Pad (MLP), crawler-transporter pen, and travel along the crawl way towards Pad 39B. A drive along the Pad B perimeter road allowed maximum appreciation of the activities and processes relating to the launch of the Space Shuttle (STS). Before returning to the KSC Visitors' Center and the Center for Space Education, the tour was routed to the Pad B Launch Control Center (LCC). Ample time was allowed for on-site observations and as well, questions were welcomed and graciously
answered.

Tour members included Les and Barbara Winick, Ben and Connie Ramkissoon, Mrs. Jerome Krause, and Ken Havekotte. The tour was a magnificent opportunity to see some of the inner workings of the Kennedy Space Center manned spacecraft activities that are ongoing and which will move NASA into the next decade. It was an unprecedented opportunity to enjoy the camaraderie of our friends and at the same time take in all the sights. All agreed that this meeting was one of the best in the area in the last several years.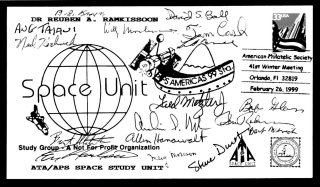 Figure 1
--------------------------------------------------------------------------------



First Overseas Space Unit Meeting - May 1st, 1999

Thirty space collectors attended the first overseas Space Unit meeting.
The International Director wants to serve the overseas members and that's
what I did during the World Stamp Exhibition IBRA 99 in the German city of
Nuremberg. IBRA 99 was the first international stamp exhibition in Germany
for 25 years. With Germany providing the highest single national delegation
amongst the Space Unit's overseas' membership, this occasion seemed the
most appropriate choice to call for a meeting. Jointly with the German
astrophilatelists' club Weltraum Philatelie e. V., I invited all overseas'
members for the afternoon of May 1st.

The outcome was spectacular: 30 space collectors turned up, more than on
any other meeting of this kind in previous years. Most visitors were from
Germany, as to be expected, but we equally had collectors coming from
Austria, the Netherlands, France, Switzerland, and even Russia. Most
prominent members were Beatrice Bachmann from the FIP, the Chairman of the
German club, Peter Wilhelm, and the Chairman of the Austria's Gmünder
Weltraumfreunde, Walter M. Hopferwieser. 8 of the 30 participants were
Space Unit members: Florian Noller, Gert Meinl, Peter Wilhelm, Gerd
Hollenbach, Sergei Chizhov and myself fro Germany, Bart A. Beimers from the
Netherlands, aforementioned Walter M. Hopferwieser and Oleg Poliakov from
Moscow. There were many familiar faces, some of which I had seen last
twenty years ago. Other names were known by correspondence for years, and I
now met the real person behind it.

The room initially booked was much too small, but we were lucky and could
move to a larger one where another meeting had just ended. We began with a
slide show from my visit to Baikonur Cosmodrome in March 1992 - I had
attended the launch of Soyuz TM 14 there, a joint Russian-German mission.
Russian members present could add interesting details to the impressions I
had won seven years ago. After the slide show had ended, each and every one
was browsing through the large boxes of covers with space covers from all
over the world several members had carried. Pricing of older space covers,
the exploding prices for Chinese space covers, the first European space
mail with Ariane V, authenticity questions with Russian space covers were
amongst the topics overheard during this afternoon.
Jürgen P. Esders
| | |
| --- | --- |
| | |
| 30 astrophilatelists and Space Unit members meeting during the IBRA 99 World Stamp Exhibition at Nuremberg, Germany | Veteran cosmonaut Gherman Titov grants an autograph to Space Unit member Gerd Hollenbach |
Photos: Jonuscheit
---

5th Annual NY ATA Space Unit Chapter Postcard, Autographs & Stamp Show
April 17, 1999 from 10 - 4 at the Elk's Lodge 62-10 Queens Blvd. Elmhurst NY. The Post Office will be there and a Space Cancel honoring the 30th Anniversary of Apollo 11 will be offered free. If you would like a table at this show contact Carmine Torrisi ctorrisi@aol.com

Midwest Region SU Chapter Annual Meeting (second of two) in conjunction with
ChicagoPex '98
November 8, 1998 from 11am - Dr Ben Ramkissoon presided at the meeting. Members and guests signed a illustrated cover as a souvenir of the meeting.
Exhibition Awards included:


| | | | |
| --- | --- | --- | --- |
| Youth: | Christina Carbonaro | Space Exploration | Silver |
| | Jenniger Kelly | A Space View | Silver-Bronze |
| | | | |
| Literature | Handbooks Class | | |
| | Chas J Vukotich Jr | Space Craft Covers | Silver |
| | | | |
| Literature | Periodicals Class | | |
| | Mark Bloom, editor | The Astrophile | |
| | Jeff Dugdale, editor | Orbit | |

Meeting of Washington SU Chapter in conjunction with
VAPEX '98 , 75th Anniv. Meeting American Airmail Society and FISA
1st Week November, 1998 - Members and guests signed a illustrated cover as a souvenir of the meeting. Dr Ben Ramkissoon received the prestigeous AAMS George W. Angers Award for his contributions to aero- and astrophilately.
Awards for Space Exhibits Included:
Competitive Class
Dr Reuben A. Ramkissoon
Development of the US Lunar Exploration
VAPEX Gold
AAMS Gold
SU Gold
Youth Exhibit Awards
Michael Ollies
Exploring our Solar System
VAPEX Vermeil
AAMS Gold
CAS award
Ben Heyler
The Race through Space
VAPEX Silver
AAMS Silver
Christopher Doan
Flying High in Outer Space
VAPEX Silver-Bronze AMMS Silver
Display Class
Daniel C. Olsen
To Conquer the Sky (Maximum Cards)
VAPEX Silver AAMS Silver
---
This page © Space Topic Study Unit
This page is maintained by
Dr R J Smith
.
Last modified on 2003 July 24