International Astrophilatelic Meeting
This weekend for astrophilatelists was the idea of Jürgen P. Esders, International Director of Space Unit and Stefan Bruylants, President of BFV Cosmos on the occasion of the International Exhibition B E L G I C A 2 0 0 1 in Brussels.
Both are willing to promote astrophilately in the philatelic world and show the interests of youth and adult in rocket science and space development.
Astrophilately is more than collecting stamps. Astrophilately is doing research on space development and show these evolutions with covers and letters, having the right cancellation of the right place on the right date, and if possible, even have been on board the spacecraft.
Astrophilately has become a major part in Aerophilately and more and more collections take part in international philatelic exhibitions.
Interested ? Join us !

Saturday June 9th, 2001
Salle Jacques Stibbe
14-16 h
Seminar on
« Judging Astrophilately «

by Mr. Jose M. Grandela,
Chairman of the FIP-Section for Astrophilately

Seminar in cooperation with FIP Commission for Aerophilately.

16-17 h
Meeting of the Bureau
FIP Section for Astrophilately

[private meeting - only on invitation]

Sunday June 10th, 2001
Salle Edmond Struyf
14-17 h

1. Opening by representatives of Space Unit and B.F.V. Cosmos
2. News from the two societies
3. Slide show:

Peenemünde: a historical site in a new outfit, by Jürgen P. Esders

October 3rd, 1942: the first ballistic missile is launched successfully. The A-4, later baptised "V-2", "V" for vengeance, is the first man made object to reach outer space. What was intended to be terror weapon by the German Nazi government, became a pre-cursor for spaceflight both in the United States as in Russia. Few is left on the original site, the Army Test Installation near Peenemünde, on the remote Usedom peninsula on the shores of the Baltic Sea. Only very recently, the entire exhibition on the Historical-Technical Memorial Centre at Peenemünde was re-modelled according to valid historical concepts, showing the highly ambivalent character of the A4 and its context. Returning from a recent visit on the site, Space Unit's International Director Jürgen P. Esders reports about the changes on the site.

4. Presentation:
The emerging spacepower: current Chinese space projects,
by Dr. Stefan Bruylants

At the change of the Millennium, the People's Republic of China is the emerging third space power. The 2nd flight of an unmanned test vehicle for manned spaceflight has just ended, three more unmanned tests are to follow. Then, on the 6th flight, by late 2002, the first Chinese "taikonauts" hope to orbit Earth. Fourty years after Yuri Gagarin's historical first manned spaceflight, China will become the third country with manned access to space. Dr. Stefan Bruylants, President of B.F.V. Cosmos, presents these recent developments using philatelic material, stamps and covers.

5. Members talk, trade, sell - bring your own trading material and your manco lists!

---

International Space Unit

The Space Unit was founded in November, 1957. It has since grown in membership into the largest astrophilatelic independent society in the world. Members are represented throughout the United States and Canada, as well as the five continents.

The Space Units bimonthly official publication, The ASTROPHILE, carries articles of ongoing interest on United States and other countries space operations, lists covers and stamps issued on space themes, and provides a chronology of current and historical space events. There are frequent articles and information on obtaining autographs from astronauts and cosmonauts, and as well information on how to avoid problem areas of autograph and cover authenticity. Other services include a number of useful publications, including such basic helps on How to Collect Space Covers, as well as handbooks on Recovery Ship covers, Beck Naval covers, and an up-to-date listing of the names and addresses of US astronauts.
Members are encouraged to meet regionally, usually in connection with a scheduled philatelic event. Such meetings are regularly held in Chicago, Houston, and New York; periodically in Washington, DC and Detroit, or, on Overseas' level, during International Stamp Exhibitions such as IBRA 1999 (Nuremberg), Espana 2000 or Belgica 2001.

Membership Costs
Annual dues are $15 per year, and a $1 one-time initiation fee for new members.
The ASTROPHILE is supplied as a benefit of membership, and is dispatch by third class mail. First class postage is available at $6 in the United States, and overseas air mail at $15.
Information on membership can be obtained by contacting: Carmine Torrisi, Space Unit Secretary, P.O. Box 780241, Maspeth, NY 11378, USA.

---
International Convention and
Exhibition Center

"The Heysel" - Brussels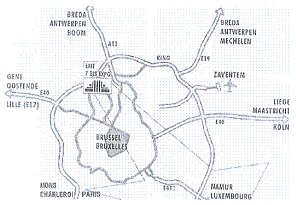 Palace 3 : Astrophilately meetings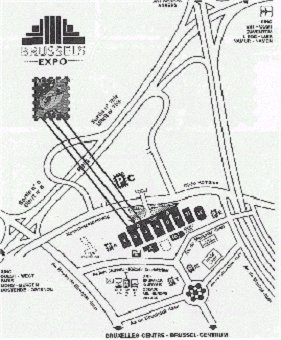 From the Bulletin n°2 - Belgica 2001
v.a. : S. Bruylants - 't Pleintje 13, 2861 O.L.V.-Waver/Belgium


---
This page © Space Topic Study Unit
This page is maintained by
Dr R J Smith
.
Last modified on 2001, April 3.