Space Postmarks 2012

Two USA Postmarks for 50th Anniversary of John Glenn's Mercury 6 Flight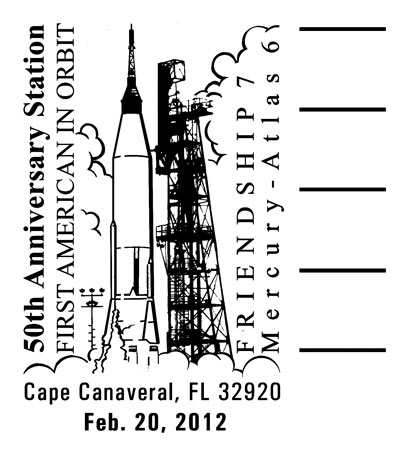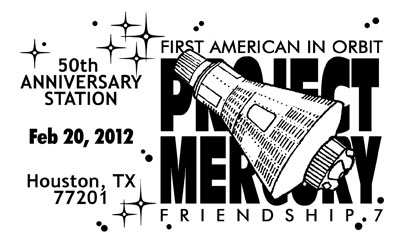 All requests should be mailed to:

For Cape Canaveral, Florida: First American in Orbit 50th Anniversary Station, c/o Postmaster 8700 Astronaut Blvd., Cape Canaveral, Florida 32920-9998;

For Houston, Texas: First American in Orbit 50th Anniversary Station, c/o Postmaster, GPO, 401 Franklin Street, Houston, Texas 77201-9718



An Austrian Postmark for 50th Anniversary of John Glenn's Mercury 6 Flight
There will also be a pictorial postmarker for this anniversary in the Austrian capital of Vienna:

Date: 20 Feb 2012
Location: 1060 Wien
Text of the postmarker: "50 Jahre Erster Amerikaner im Orbit - Werbeschau GWF" (50 Years First American in Orbit)
Ill.: Mercury spacecraft, portrait Glenn in space suit, autograph Glenn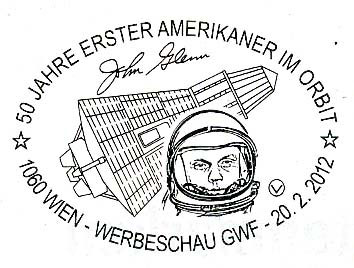 Send your stamped covers to:
Österreichische Post AG,
Zentrale Stempelstelle - Philatelie
Fleischmarkt 19
A-1010 Wien
Austria.



A US Postmark for Endeavour's Final Flight on it's Carrier Aircraft
A special pictorial cancellation is available through the Los Angeles Postal District for all mailed-in requests in conjunction with the arrival of the Space Shuttle Endeavour and Shuttle Carrier Aircraft at Los Angeles International Airport on Sept. 21, 2012.
Requests should mailed to the address below with proper postage affixed (45 cents for covers; 32 cents for postcards; or $1.05 First Class International) and it's recommended stamped return addressed return outer envelopes or packaging is provided by the sender.

Space Shuttle Endeavour Final Flight Station
Los Angeles District
7001 South Central Avenue
Los Angeles, CA 90052-9998

A New US Postmark
Details

October 12, 2012
Drollinger Properties
Final Mission Station
Postmaster
7001 S. Central Avenue
Los Angeles, CA 90052-9998
USA


Another US Postmark
Rounding out the Mercury flight anniversaries this year, a '3rd American in Orbit-Project Mercury Sigma 7' cancel can be ordered from Houston bearing an Oct. 3rd date:
Postmaster
50th Anniversary Station
401 Franklin St.
Houston, TX 77001-9998
Note: the deadline has been extended by 60 days, so postmark your covers by 1/1/2013.
-----------------------------------------------------------------------------------------------
General Note: Much of the above information was first reported on collectSPACE

---
This page © Space Topic Study Unit
This page is maintained by the Webmaster.
Last modified on 2012 December 1