FREE POSTER FROM THE U.S. POSTAL SERVICE "STAMPS 2000: EXPLORING THE UNIVERSE IN STAMPS"
Donald J. Butz
As most members probably know by now, the United States Postal Service (USPS) is embarking a stamp issuance program for the Year 2000 that includes an extraordinary number of 'space topic' and related 'astronomy topic' postage stamps. While there is controversy about the face value of the stamps, their formats, and even their designs, it is still an exciting year for the astrophilatelist. In fact, these issues form the central part of the theme, Space Achievement and Exploration" for WORLD STAMP EXPO 2000, to be held from July 7-16, 2000 at the Anaheim (California) Convention Center. In the meantime, full color, glossy images of these stamps and their associated souvenier sheets may be obtained for free from the USPS, in the form of a poster with descriptive issues on all planned releases for the Year 2000. This poster is included within the Spring 2000 issue of "USA Philatelist", the catalog/publication of the USPS philatelic sales division. Call their philatelic sales hotline at (800) STAMP 24 (which is also 800-782-6724), or write them at USPS, STAMP FULFILLMENT SERVICES, P.O. BOX 219424, KANSAS CITY, MO 64121-9424. According to details in the poster, the following space and astronomy stamps and sheets will be issued this year:
EDWIN POWELL HUBBLE, with five stamps based on images made by the Hubble Space Telescope launched in April 1990 (part of NASA's Great Observatories series, and refurbished/repaired in December 1999). Subjects on these 33 cent stamps include the Eagle, Ring, Lagoon and Egg Nebulae, and Galaxy NGC 1316, and they will be part of a stamp pane (but will not be se-tenant issues)

SPACE ACHIEVEMENT AND EXPLORATION, a series of four different souvenier sheets

"Probing the Vastness of Space" with six 60 cent stamps. Individual stamps feature mostly ground-based assets, including apparently the National Radio Astronomy Observatory array, Keck Observatory, Mt. Wilson Observatory, Arecibo (Radio) Observatory, and Cerro Tololo Inter-American Observatory, as well as the Hubble Space Telescope on orbit.
"Exploring the Solar System", with five pentagonal (five-sided -- the first such stamps from the U.S.), $1.00 denomination stamps, featuring views of bodies in the solar system, apparently including five views of the sun, against a backdrop of close-ups of other bodies in the solar system.
"Escaping the Gravity of Earth" with two $3.20 space shuttle/International Space Station stamps, against the backdrop of a photograph of the shuttle (cargo bay doors open) over the earth.
"Landing on the Moon" with one $11.75 stamp showing an artists painting of a Lunar Module Ascent Stage lifting off from the moon, against the backdrop of a photograph of an astronaut on the moon. The photograph was taken on the Apollo 16 mission.

"STAMP'IN THE FUTURE'", the last (and to some apparently, the least) of the 2000 space issues, featuring a pane of four different 33 cent space-related stamps designed by children who won a contest for 8-12 year olds; the designs are very simple and child-like, but this was an interesting concept.
Generally, most all these feature photographic designs, rather than paintings or drawings. Apparently all of the Space Achievement and Exploration stamps will be issued during the July 2000 stamp exposition, which by the way, you can write for information on at: WORLD STAMP EXPO 2000, P.O. BOX 44403, WASHINGTON, D.C. 20026-4403. Linn's Stamp News dated February 7, 2000 indicates one additional stamp to be issued at the Expo, this an $11.75 round, hologram stamp depicting the Earth, in a souvenier sheet entitled "Achievements in Exploration". So, a very big year for U.S. space issues, with heavy emphasis on astronomy as a topic as well. Remember, you only need to collect what you like!

Additional Space Stamp Issued (Ross Smith)
On the 13th January, 2000 a 33c stamp was issued showing the Shuttle as part of the 15 stamp issue for Celebrate 1980s. This is part of an ongoing series which shows the major innovations for each decade during the 1900s.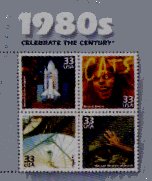 Four of the 15 stamp issue
Special Postmark
Gordon J. Ducote from the JSC Stamp Club reports that Houston (downtown only) post office has received a special cancel for the space stamp that was issued in January 17th, I think) (I would expect it to be 13th as this was the official issue date of the stamp RJS). They do not have any of the stamps, but requests for cancellation should be sent to:
Mr. Roy Gomez
NPO Window Unit
U.S. Post Office - Franklin St Branch
Houston TX 77201

And a description from Ed Black
Measurements:
2 3/4" long by 1 1/4" high

Design:
Far left side: Shuttle mated to ET at liftoff (with plumes) in
an enclosed box....To the right of that box are four lines....

Space Shuttle Station
Celebrate The Century
Houston,
Texas 77201

My sample postmark does not include the date, but it
was designed to be placed below the four lines named
above, and I believe would be a floating date mark.

The very top of the postmark features 8 stars.

Since I had involvement in doing the lettering for
this postmark, I am hoping this is the one that was
opted for by Roy Gomez.



---
This page is maintained by Dr R J Smith (
rjsmith@magna.com.au
) .
Last modified on 9 February, 2000.